We are Turning 40!
Unlike many people, we are extremely excited to be turning 40! On the 11th December, it will be our 40th year in business. Statistics have shown that only 30% of businesses survive 10 years and we have made it to 40! 
The Sussex Beds Story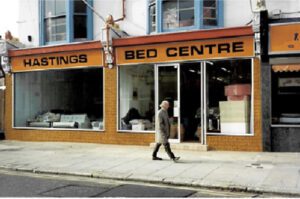 It all started in 1981 when our founders John & Sandra Pickering opened the first Hastings Bed Centre, after being inspired following a visit to a trade show where they decided they wanted to open a store that specialised in Beds and Mattresses. 
From 1981 to 1986 the Hastings Bed Centre continued to thrive and in 1986 they opened a store in Haywards Heath under the new name Sussex Bed Centre. Between 1987 and 1995 our 4 directors (Stephen, John, Matthew & Suzanne) joined the team and the flagship store on King Offa Way in Bexhill opened.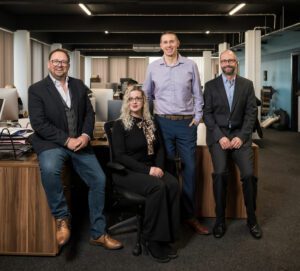 In 1997 our Uckfield store was opened and between then and 2002, a store in Portslade on the Seafront and Hailsham in their Retail Park was opened. A 6th store was opened in 2011 in Newhaven on Denton Island and the current Haywards Heath Store was expanded and increased in storage capacity. 
By 2014 John and Sandra have taken a well-earned retirement and the company was left in the capable hands of Stephen, John, Matthew & Suzanne. Also during this year, a new state of the art EPOS system was introduced to modernise the ordering and delivery processes.
2015 was the year of the rebrand where we became Sussex Beds, as well as this we were awarded 'Best Retailer' by the Business Excellence Forum and Awards. By 2016 Sussex Beds had won 'Bed Retailer of the Year' at the NBF Industry Awards.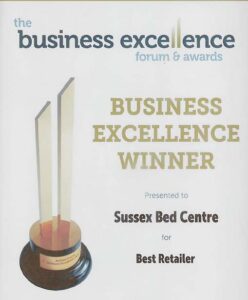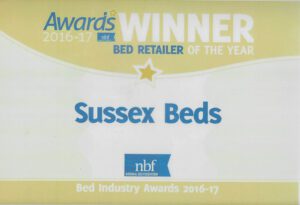 2 more stores opened in 2017 one in Worthing and one in Tonbridge, in the Pavillion Shopping Centre. This brought us to 8 stores across Sussex and Kent, however, it didn't stay at 8 for long as store 9 opened in 2018 in Maidstone in the Newham Court Shopping Village. By 2019 Sussex Beds had 11 family members working for the business. 
2020 was a tough year for everyone with 2 lockdowns and all our stores shut for months, however, we managed to open a new store in Tunbridge Wells between the 2 lockdowns…
When stores finally reopened in April 2021, after a 4-month lockdown, we were ecstatic to be reopening all our stores including a new store in Ashford that had a 2nd distribution hub to help facilitate deliveries in Kent. 2021 continued with more excitement when we opened our 12th store in Canterbury taking over the previous Canterbury Beds Store. 
The icing on the cake of an interesting year was being named the 'NBF Retail Champion of the Year' by the National Bed Federation. We were so honoured to of won this award after a difficult 18 months. To finish off the year we are turning 40!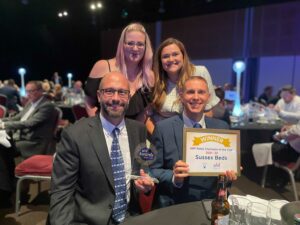 Our plans for the Anniversary
Over this month and then into the new year we will be showing you all kinds of 'blasts from the past' as we have old photos from the stores, logos and our directors! Watch out for interviews from our longest employees and videos all about Sussex Beds! Throughout next year each shop and our office will be taking it in turns to take on a charity fundraising event! Starting in January with Tunbridge Wells who are raising money for Porchlight a Homeless Charity in the area. The store leader is taking on the challenge of a sponsored sleepout for 40 hours to understand what homeless people go through in the hope to raise money for the Charity! 
Follow us on Facebook and Instagram to keep up with the latest 40th Anniversary news, pictures and videos.