How to work out if it might be time to buy an Adjustable Bed. 
Do you have constant back pain? Sleep apnea or being moaned at for snoring? Or maybe you are experiencing arthritic pain.
An adjustable bed can help relieve all these problems. By being able to raise the head and foot of the bed with an easy to use remote you can be more comfortable and sleep better. 
Why raising the head and foot of the bed can be good for pain
Adjusting the head and foot of the bed alleviates pressure on the sciatic nerve.

By adjusting the head of the bed to 45 degrees it can relieve pressure on the lower back, therefore, reducing pain.

Raising the foot of the bed allows for your knees to bend and legs to be levitated, reducing pressure on the spine.

Stiff and achy joints can be alleviated by positioning the mattress so weight is taken off these areas. Doing this can also aid with morning stiffness and pain. 
Tips to help with Snoring and Sleep Apnoea
When you are lying flat snoring occurs because of the extra weight being put on the windpipe – this causes it to close and therefore make the noise we know as snoring. 
By raising the head of the bed it allows pressure to be taken off the neck and the snoring to be reduced.

This is similar to people with asthma, sleep apnoea and breathing problems, these can be helped by raising the head. 
Our Adjustable Bed Range
The beds come in all sizes from a small single to super king and have multiple colour options. With an easy to use remote (see the image below) it provides independence for anyone using.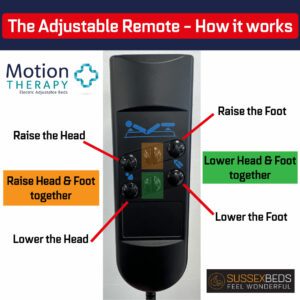 We offer 3 types of mattresses medium, medium/firm and firm all with different fillings of either natural or memory foam. 
If you request a brochure here you can get £100 off when you purchase with us. 
Other health benefits of an Adjustable Bed
Lessen acid reflux and heartburn

Better blood circulation

Reduced leg swelling and back pain. 

Improve digestion

Reduce insomnia

Combat snoring

Improved sleep quality 

Further independence